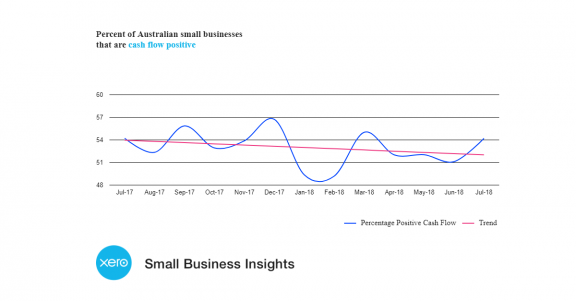 According to Xero Small Business Insights, 54% of Australian small businesses were cash flow positive in July of this year.
Small Business Insights, Xero Sep 11, 2018.
Running a small business can be hard, but dealing with cash flow is most difficult. The above statistic proves just how difficult it is for almost half of Australian small businesses. You can have multiple expenses with it seeming like money is always going out fast. There are various ways to try to maintain positive cash flow. Some are:
Don't spend all the money, keep a reserve. Do you really need to spend hundreds and thousands on advertising that may not get you any real ROI (Return on Investment)? The old adage - 'you have to spend money to make money' has some truth to it, but you have to be smart and calculated about it.
Keep track of your cash flow on a weekly, if not daily basis. It's so easy to keep your head down and not notice more money going out of the business than what is coming in. Know what your expenses are, and review them regularly.
Stop thinking that the hours you are working are the hours you are earning. This is not always the case, track your time and whether it's spent on things that will bring you closer to your goals.
Encourage payments to happen faster. Offer early payment discounts. And finally;
Utilise an integrative payment platform to collect payments as soon as possible. There are many out there to choose from, but it is important to have one that integrates with your accounting platform.

Keep in mind the above points and make sure you acquire the right systems to keep your cash flow in check. Your accountant can determine a budget and also do cash flow forecasting. This is good to have in case you need to obtain new finance. But having an integrative payment platform to collect payments, whether they be one off or recurring is essential. Gone are the days where you had to have a physical terminal or wait around for bank transfers to happen. Clients and customers can now pay instantly, with the click of a button. One such payment platform we recommend is Pinch Payments.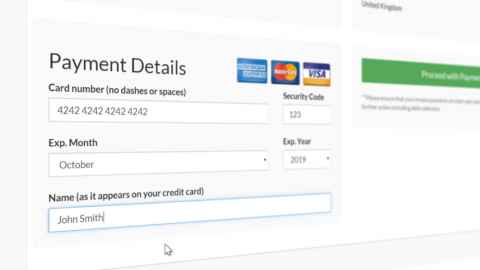 Pinch Payments are an Australian owned payment platform suitable for any business looking to simplify the way invoicing and payments are managed. It's easy to use and provides a secure payment page that allows your clients to store their credit card or bank account details for automated payments. This means for recurring invoices, the client won't have to worry about paying you, and you won't need to worry about chasing payment.
Automated billing is a godsend for helping cash flow. Other benefits of using the Pinch Payments platform are:
No set amount for a direct debit authority.
You can pass on surcharges to clients, which shows as an additional tax invoice in your accounting system.
Can handle on charging software costs for accounting/bookkeeping firms to their clients.
No double entry, it will even reconcile your bank statement saving you more time.
Re-attempt payments, the platform will re-attempt taking payment up to 5 times over a certain period.
Dashboard/reporting: such as when clients fail to pay, upcoming payments, recent payments and settlement statements.

If you are fed up with your current payment platform, or simply want a solution that will allow easy and secure online payments for your clients, Get Pinch today!

For more information about Pinch Payments visit -
getpinch.com.au
facebook.com/PinchPayments/


---